Webhouses Linux Installation
If you want to install the latest Linux Mint 19.2 "Tina" you can find DVD's in our store. You can choose from a choice of devices DVD, USB or Magic USB's which can also back your mobile phone up with your Contacts, Videos and Photographs. It also alows you to install Windows 10 and 7 as well as Office 2019 professional as well as the latest Linux Mint 19.2 "Tina" is three times faster than Windows. We recommend the cinnamon desktop which is far easier to use than the Windows desktop and this is the desktop of choice in all our store devices for Mint installation.
Moving from Windows to Linux is easy and you can install it alongside your Windowss chooseing which operating system you want to use on switching on.
You will save yourself a lot of expense on software programs which are free on Linux. The software manager on Mint can install over 30,000 programs and you can download thousands more from the web.
If you want anything you use on Windows then Googling Linux equivalents to "Your Program." This usually fetchs ten top of the range programs which usually are far better than the one you requested and they are free as well.
With Linux distributions and you can have the best of both worlds. This is especially useful if you have a virus attack. Installing Linux alongside Windows will allow you to run on the Linux desktop and you can recover your files from Windows to your Linux deasktop and run them from there. You can drag and drop files you want to save, or urgently need into Linux and save or use them right away in an equivalent Linux application.
However if you have ransomware in your Windows recovering the encrypted files will be useless. However you can still install Linux and run your machine on Linux.
Interpol sometimes obtains the decryption key so you can recover your files but do not put to much hope in that.
If you have installation media USB or DVD to install Linux Mint 19.2 then you can easily install it by booting with the DVD or USB in and follow the instructions on the screen. If you would like to follow the instructions that you will be given then a full list of these are in Mint? the Mint Help file. If you go back a page. It is far easier than a Windows installation and gives you a slideshow of the many programs on the desktop already for you on the desktop Menu found at the lower left marked LM in a green icon on the panel where you can also put your frequently used programs. Here is the screen before you customise it.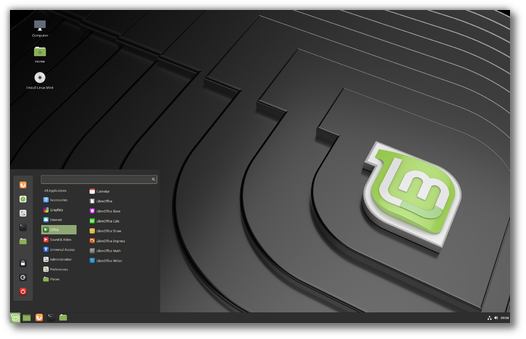 The desktop is very easy to customise and set up for your website designs. It is useful to put together on the panel the frequently used programs fo webdesign so do these all at one go so they are placed together. These are Firefox Filezilla Geany Files and Chrome is not so useful as it has the habit of storing the pages so when you change a page it keeps the old version. So use it when you have completed everything ensuring it has lost its history.
If you want a five minute tutorial good to practise and learn, on setting up the desktop you will find it very useful to read and practise by going back a page and clicking on the Setup button The cinnamon desktop settings page.
If you have any questions about Linux a good source is http://www.linuxquestions.org/questions/.
For your enquires or orders
You can always contact us by phone for other queries on 0203 669 6885